Business Planning Overview
A business plan is a business management program for achieving the best effect of the Company's goals with minimal labor, material, and monetary resources; it is an integral document for strategic planning and guidelines for implementation and control.
The Company defines the procedure for formulating, adjusting, agreeing, and approving business plans of Holding subsidiaries and their entities.
The business plan format includes medium-term forecast indicators, which, together with an annual plan, make up a five-year planning horizon. Forecast indicators are based on the formulated business plan (including capital investment programs) for a planned year, which is the underlying forecast year, and on the scenario conditions for electricity industry development that exist at the time of business plan formulation and take account of the particularities of energy companies' activities with due regard to the existing scenario conditions adjusted by the Company.
Scenario conditions are based on the balance forecast for the electricity industry of the Russian Federation, medium-term consolidated investment programs, and other documents defining the company development strategy and are approved in accordance with the procedure prescribed by the Company.
Any business plan is approved simultaneously with a related investment program at meetings of the boards of directors of the Company subsidiaries. In addition, a business plan implementation report is submitted for consideration by a board of directors on a quarterly basis.
Pursuant to paragraphs 11.1.30 and 14.3.12 of the Articles of Association of the Company, any consolidated plan of financial and economic activities of the Company's subsidiaries, together with quarterly and annual reports on financial and economic activities of subsidiaries are reviewed by the Board of Directors of the Company.
KEY ECONOMIC AND FINANCIAL INDICATORS OF THE COMPANY SUBSIDIARIES ENGAGED IN ELECTRICITY DISTRIBUTION FOR 2012 (RUBLES IN MILLIONS):
| INDICATOR | 2012 Plan | 2012 Actual | DEVIATION |
| --- | --- | --- | --- |
| Net revenues from sale of goods, products, work, services | 582,221 | 581,443 | -778 |
| EBITDA | 98,608 | 104,942 | 6,334 |
| Net profit (loss) | 14,238 | 21,504 | 7,266 |
| Loan portfolio | 243,120 | 224,593 | -18,527 |
| Debt to EBITDA | 2.49 | 2.14 | -0.35 |
| Net asset value | 622,978 | 648,532 | 25,554 |
In 2012, the net profit of the Company subsidiaries engaged in electricity distribution totaled 21.5 billion rubles, including the loss of 3.1 billion rubles from electricity distribution, which is lower than in the previous year by 14.6 billion rubles and 13.1 billion rubles respectively. The amount of the capex program increased from 130.2 billion rubles to 136.4 billion rubles.
The revenues and net profit from electricity distribution decreased as compared with 2011 primarily for the following reasons:
the Russian Government pursued the policy of keeping down tariffs for services provided by natural monopolies (revised downward on May 1, 2011, distribution tariffs continued into the 1st half of 2012; the growth in tariffs was limited to 11% in 2012; reregulation took place with worse long-term parameters in accordance with Resolutions of the Government of the Russian Federation No. 1172 and No. 1178);
customers switched over to last mile agreements with FGC UES;
an increase in overdue receivables and, consequently, doubtful debt provisioning occurred.
REVENUES, MILLION RUBLES ACTUAL 2012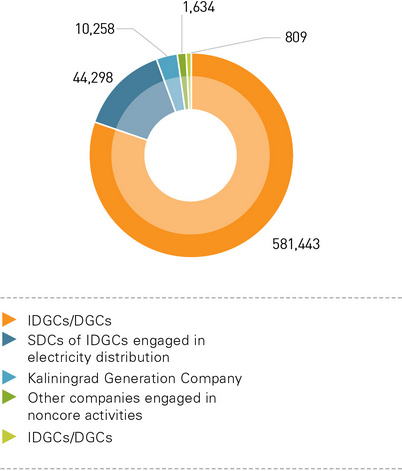 Скачать в XLS
The revenues of Holding's companies, namely 14 Interregional and Regional Distribution Grid Companies (IDGCs/DGCs), retail companies, subsidiaries of IDGCs/DGCs providing electricity distribution services, Kaliningrad Generation Company, and other companies engaged in noncore activities, totaled 638,442 million rubles in 2012. The net profit was 17,471 million rubles.
Prime Cost of Services of the Company Subsidiaries Engaged in Electricity Distribution for 2012
The prime cost, including administrative and selling expenses, of services provided by the Company subsidiaries (14 IDGCs) in 2012 totaled 517,956 million rubles, including uncontrollable expenses of 353,536 million rubles and controllable expenses of 164,420 million rubles.
THE PRIME COST STRUCTURE (INCLUDING ADMINISTRATIVE AND SELLING EXPENSES) IN 2012, %
Скачать в XLS
Operating Efficiency and Cost Management Program
A key goal for the Company management is to make systemic and target-oriented efforts to raise the efficiency of operating activities and optimize expenses.
Implementation areas for the cost management program are prioritized according to the business processes generating most expenses and having the high potential for expense optimization. The principal areas for carrying out the cost management program are as follows: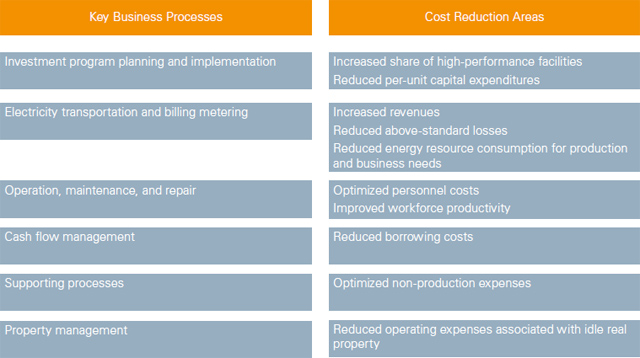 Compared with 2010, operating expenses decreased in 2012 by 9.7%, or 11 billion rubles, as determined by the technique agreed upon with the Ministry of Energy of the Russian Federation.
IMPLEMENTATION OF THE INSTRUCTIONS ISSUED BY THE RUSSIAN MINISTRY OF ENERGY TO CUT OPERATING EXPENSES
| Indicator | 2010 actual | 2011 actual | 2012 actual | 2013 plan |
| --- | --- | --- | --- | --- |
| Operating expenses, million rubles | 113,708 | 117,153 | 122,220 | 127,119 |
| 2011 consumer price index | | 1.061 | 1.061 | 1.061 |
| 2012 consumer price index | | - | 1.066 | 1.066 |
| 2013 consumer price index | | - | - | 1.055 |
| Coefficient of change adjusted for elasticity | | 1.030 | 1.052 | 1.053 |
| Adjusted operating expenses, million rubles | 113,708 | 107,202 | 102,676 | 101,175 |
| Change in adjusted operating expenses against 2010 | | -5.7% | -9.7% | -10.9% |
The table above shows that the instructions issued by the Russian Ministry of Energy to cut controllable expenses by 10% in 2011–2013 will be carried out successfully.
Actual purchases totaled 125.654 billion rubles in 2012. A reduction in expenses against the planned figures was 8.4 billion rubles, including the 10% reduction.
Therefore, Instructions of the President of the Russian Federation No. Pr-846 of April 2, 2011, with respect to the high-priority measures to improve the investment climate in Russia and Instructions No. ISh-P13-5809 of August 15, 2011, issued by Russia's First Deputy Prime Minister Igor Shuvalov pursuant to the President's Instructions concerning an at least 10 percent annual reduction of per-unit purchase costs related to goods (work, services) within three years in real terms in 2010 prices were carried out successfully in 2012.
IMPLEMENTATION OF THE INSTRUCTIONS ISSUED BY THE RUSSIAN GOVERNMENT TO REDUCE PURCHASE COSTS RELATED TO GOODS (WORK, SERVICES) IN 2012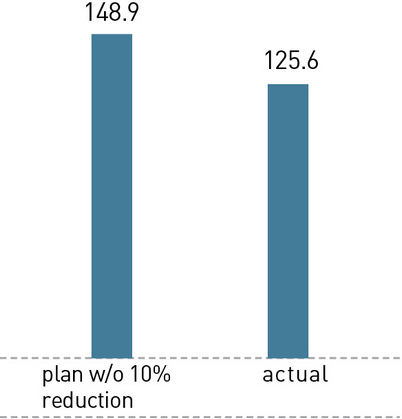 Скачать в XLS